Documentation of a design solution for the current G Street Plaza in Downtown Davis, created by my teammates and myself and presented to City Council. Inspiration for the proposal was from Davis residents and visitors.
The city of Davis tasked us with the challenge to reimagine and redesign the current G Street Plaza. In need of maintenance, the current plaza is fraught with several challenges. The plaza's focal point is an old fountain that the City converted into a planter. Besides the planter, benches, and an artisan fence, the plaza fosters no sense of community. Additionally, the plaza is the location for many public urination and public nuisance citations. Individuals experiencing homelessness often inhabit the plaza or use it for storage of personal items. All these factors negatively affect the vitality and ambiance of this downtown space. 
The City's and our vision is to reimagine this space as a dynamic, engaging gathering area. Objectives include:
1. Creating a public space that promotes public health, happiness, and well-being. 
2. Improving the vitality of downtown by enhancing a space that integrates public art, supports live performance, and public interaction
3. Promoting the economic health of local businesses and overall downtown strength.
My team went out to interview pedestrians in Downtown Davis to get an idea of people's opinions of the plaza. We reached out to UC Davis undergraduate and graduate students, alumni, visitors, local businesses, the elderly, and more. There were many positive comments and views about downtown Davis in general, but a few differed from the norm, thinking that people in Davis weren't the friendliest and there was an obscure artistic culture in the city.
We decided to focus on Davis resident John because he was one of the few people who dislikes Downtown Davis. He voiced his concerns about how people in Davis aren't always friendly to him, and it's a place where pedestrians and drivers are inconsiderate.
We met John during his shift at Copyland. We found out that he's from Compton in LA, and he likes to draw in his free time. We instantly felt a connection to John and his story because of his kind and friendly character. He stressed the importance of friendliness and compassion. From talking to him, we were surprised to find out that his day only consists of going to work and then going straight home. Despite being surrounded by people his own age, he chooses to stay home and isolate himself.
John's point of view showcases the extreme side of just one Davis resident. However, he is still just like everybody else--especially like a lot of students and people his age-- looking for his place in the world, trying to find some way to belong. Through his eyes, we have discovered that everyone, regardless of where they are from or why they're here, want to feel like they're connected. We found that the best way to combat his problem would be by designing something that not only peaks his interest, but also allows him to build a network of people who share these similar interests. 
To find possible solutions for our problem, I asked these questions: How might we make Downtown Davis John's favorite place to hang out? How might we make John feel like the coolest dude around when he's in Downtown Davis?
I came up with many possible solutions shown here but with the help of my classmates, I narrowed down to three concepts to try out with our classmates. We tested out the interactive public art wall, compliment board, and a graffiti wall. We chose these because John mentioned his interest in doodling and art, and these would provide an outlet for him to do his passion.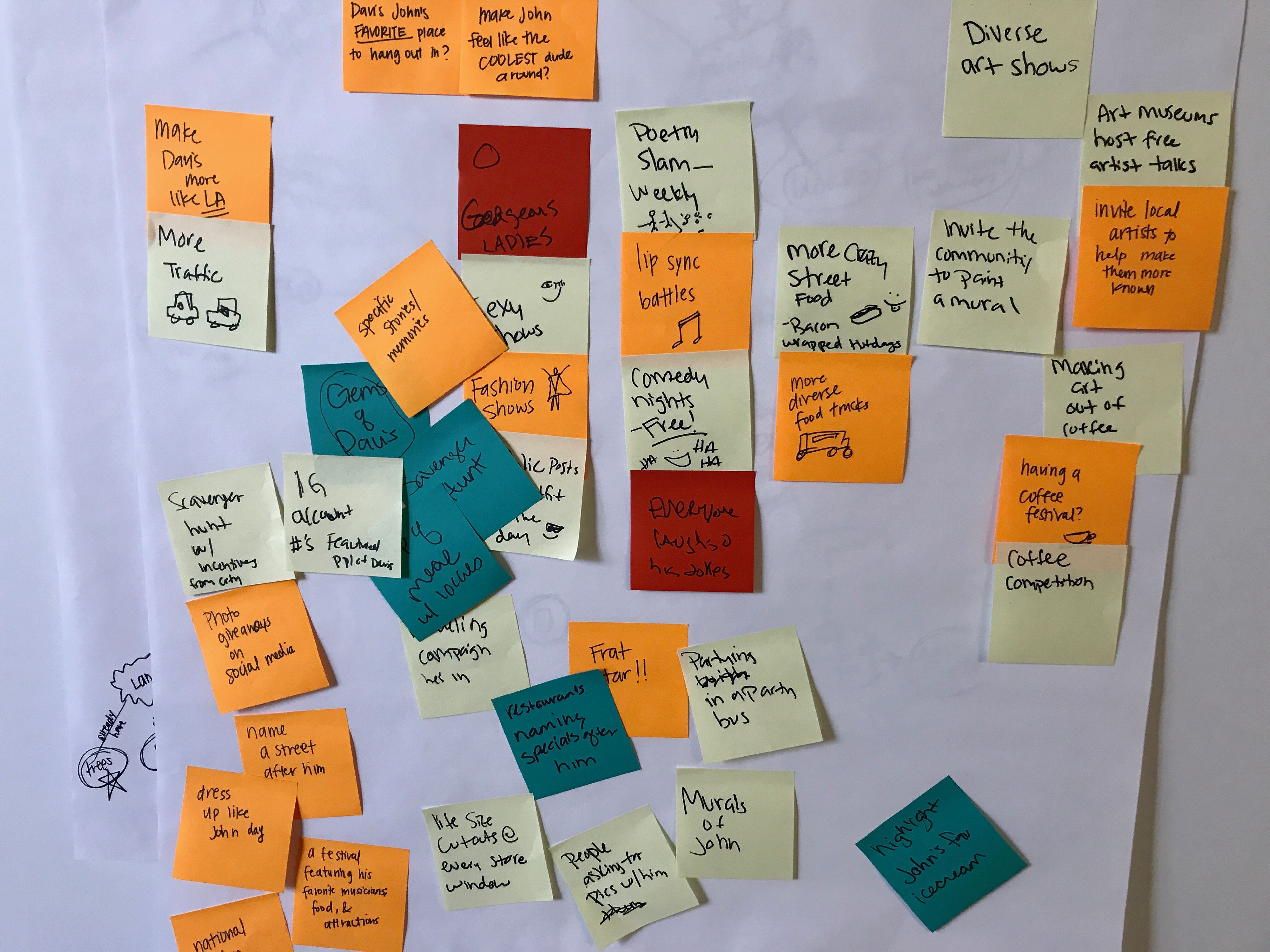 With the interactive public art wall, we came up with a prompt for people to interact with. People used different materials to answer the prompt, and the outcome was creative ideas being put on our wall. Feedback from classmates included that they liked having a prompt so they didn't have to think of what to put up themselves.
The compliment wall showed that people felt pressured and stressed trying to come up with compliments for hypothetical strangers. Also, one person wrote something mean. So that idea was quickly scrapped.
In the end, the graffiti wall reigned the most interaction. At first, people were intimidated to approach an empty wall with no prompt. But once someone started working, others were encouraged to join. What we didn't expect was how collaborative the graffiti wall became. They had a larger sense of creative freedom to put whatever they wanted once the pressure of going first was removed.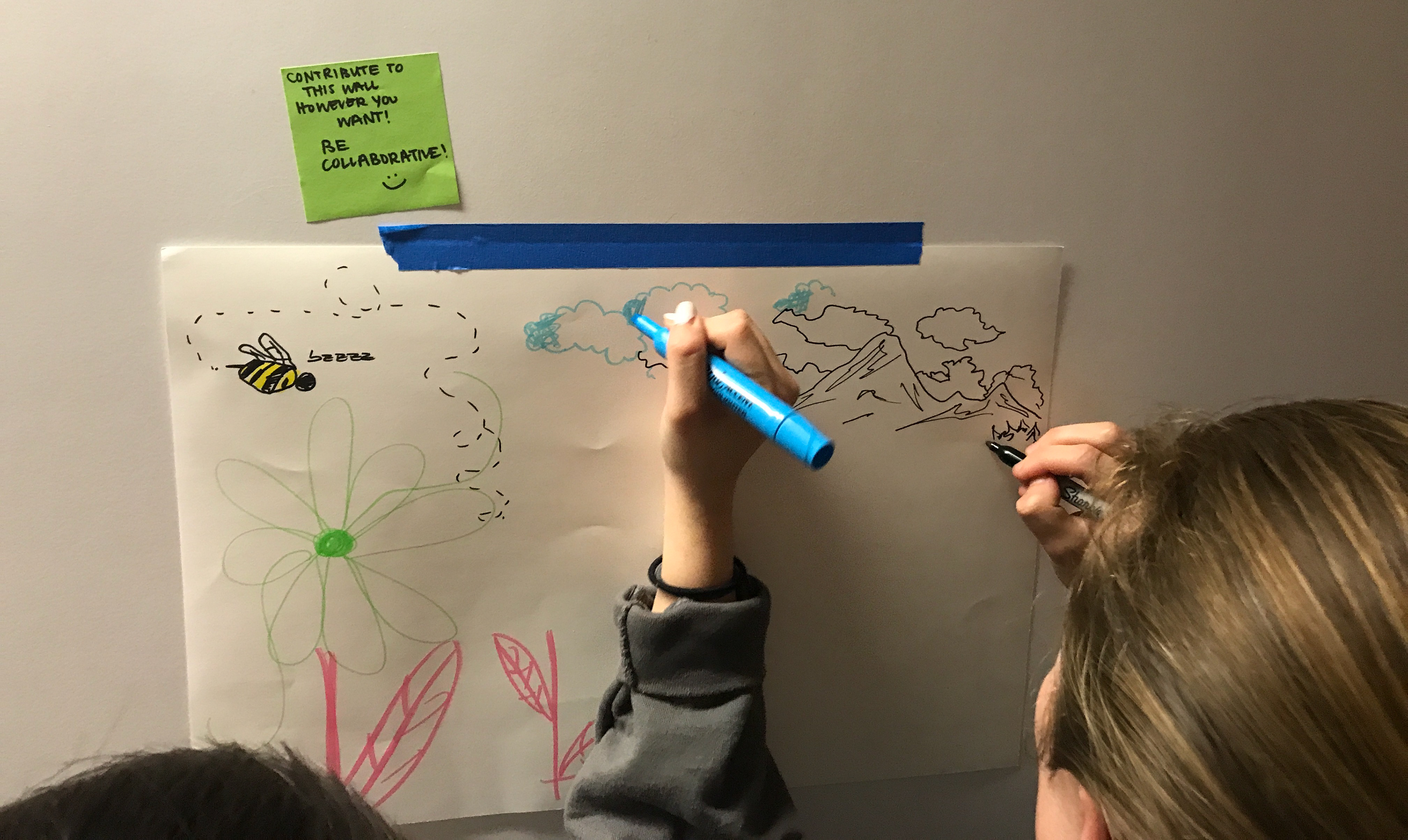 PROTOTYPING/TESTING/ITERATING
Our first iteration was in our classroom with the three concepts. After deciding that the graffiti wall was the one we wanted to move forward with, we continued with our second prototype and iteration.
For our second iteration, I put up a simple prototype at my friend's birthday party with some quick post-its as a short explanation. People were happy interacting with the wall -- both participators and observers. A couple friends texted me the next morning asking, "can you send me a photo of how the wall looks? I want to see what people added to my drunk drawings!" This spoke to the collaboration aspect of the graffiti wall and people wanting to see a community working on something together. 
We wanted to test this on a more realistic scale for our third iteration, so we printed out the prompt more professionally to accommodate with our third prototype. In actual execution, this flyer would be something we pass out and promote on social media before the wall is presented to the public. Along with that, we figured out places downtown to put these posters up, one by Philz Coffee, and another by Temple Coffee.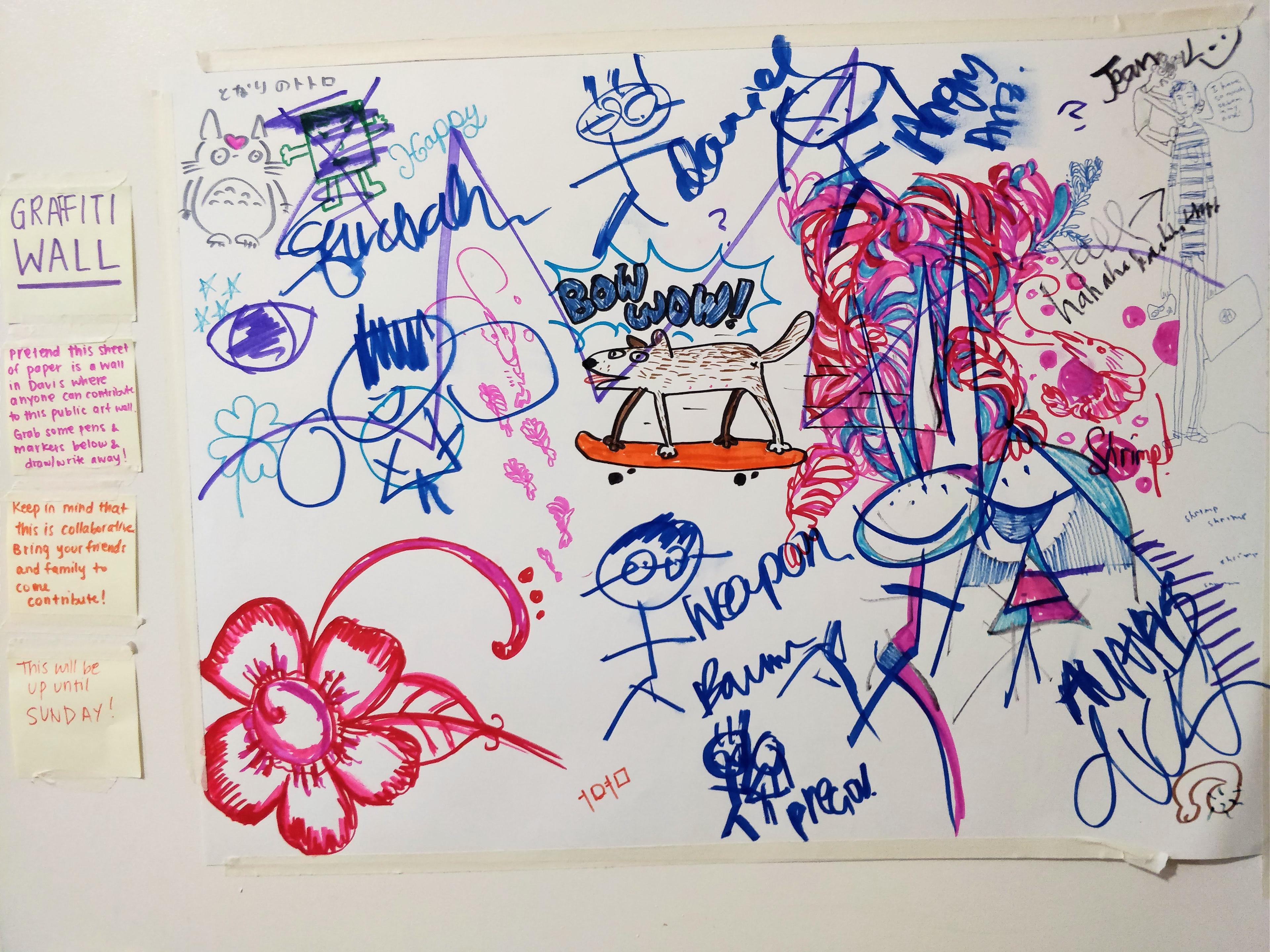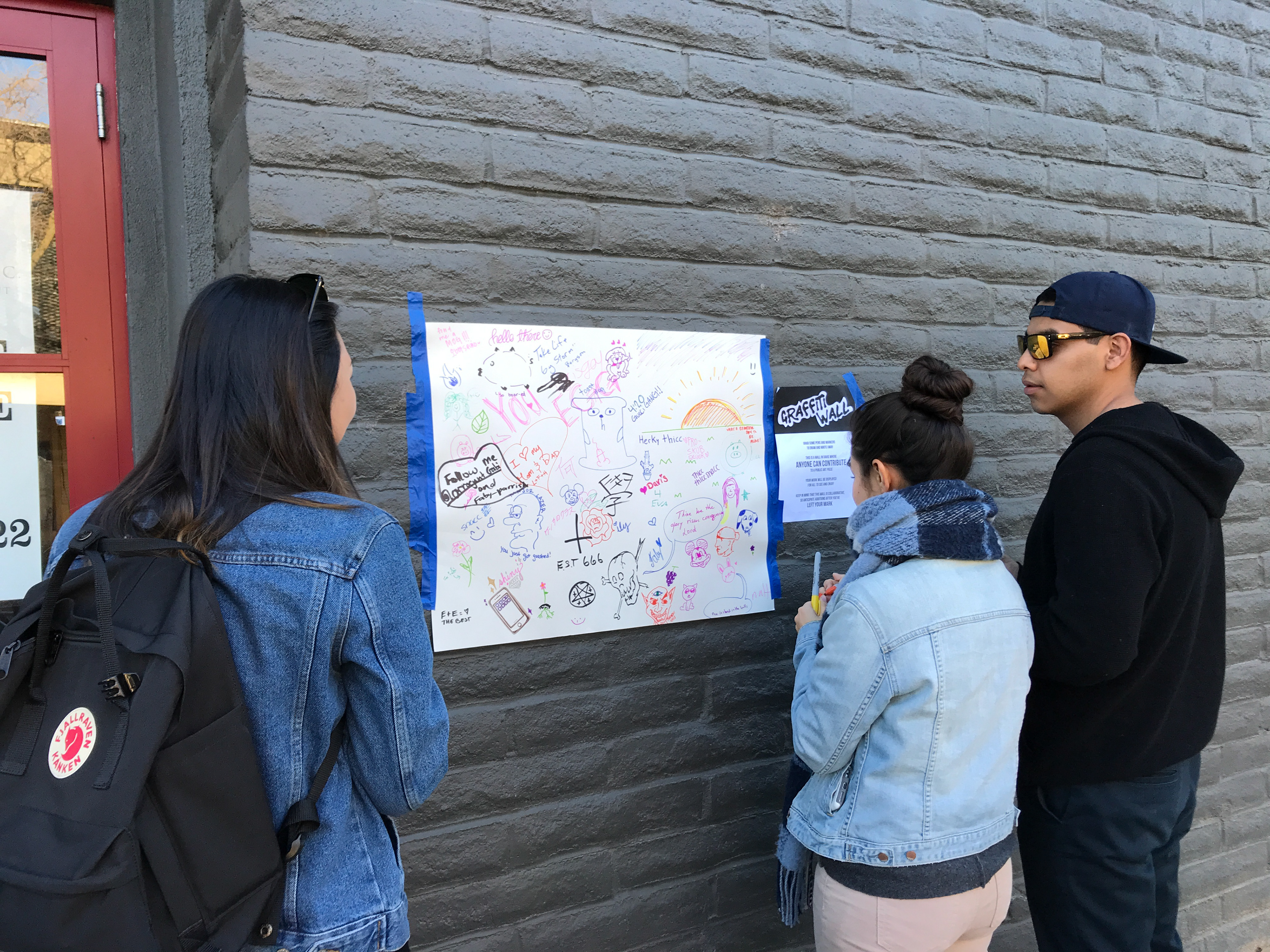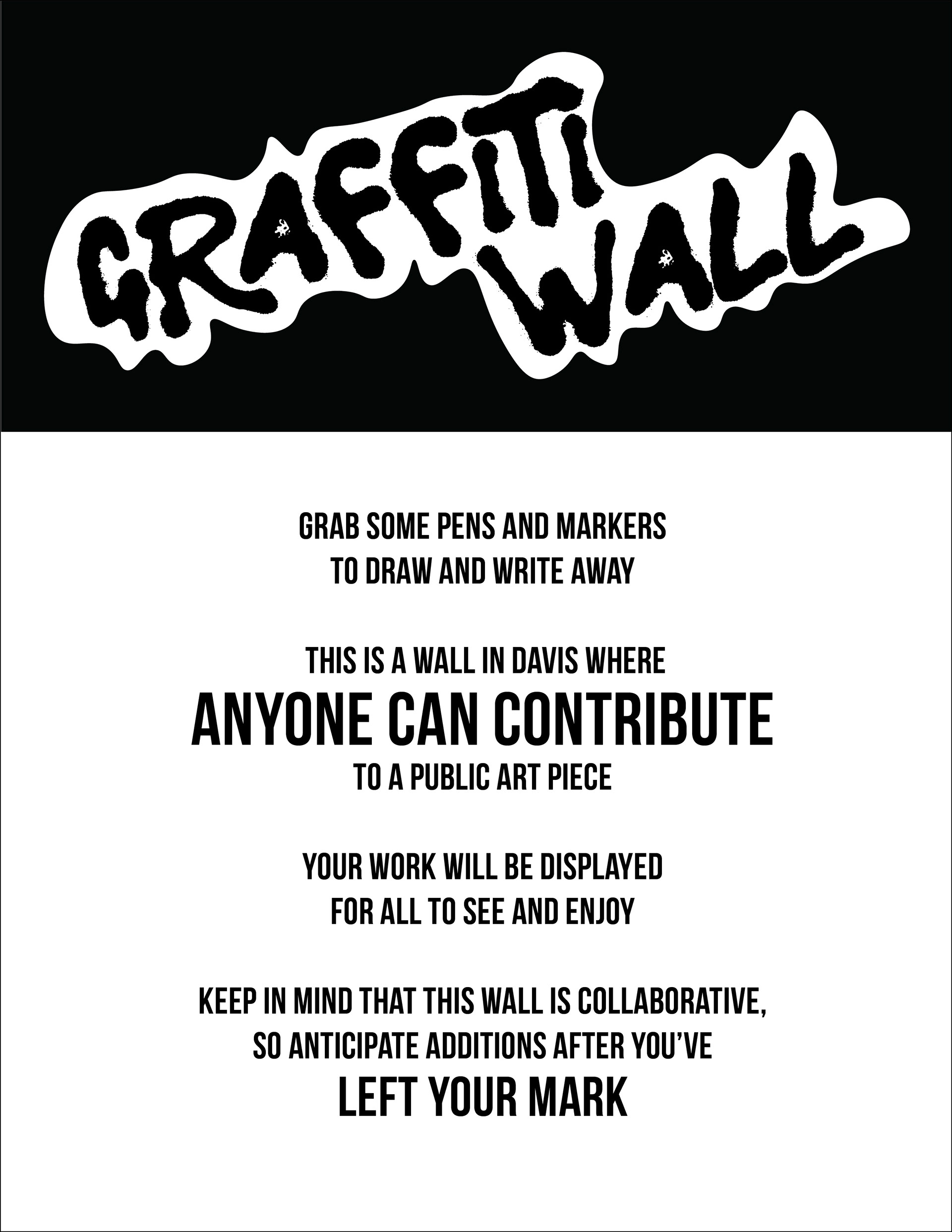 We decided to stick with the graffiti wall idea because of its popularity and favoritism by most of our users. Another factor was to appeal to John's affinity for Compton and LA, and we thought that graffiti would reflect the streets of LA. The idea isn't to emulate LA in Davis, but rather use this popular art style to bring its community members together and use their ideas as a platform to expand Davis's unique art culture. This concept appeals to the most important factor of the wall's ability to encourage mass collaboration. We thought that if the wall could appeal collaboration, it would help John feel more secure and part of something bigger than himself, as well as his fellow contributors. 
Looking back, our prototypes were successful because we made the activity of contributing to the wall easy and accessible. We provided markers and pens as a means of skipping the hassle for finding a tool to contribute with and moving straight to the imagination part. The pens and markers served as building blocks for their imagination. In reality, it would be beneficial to provide paint and materials, as we provided the poster and markers during our prototypes.
MOVING FORWARD AND FUTURE IMPLEMENTATIONS
Moving forward, we recommend the graffiti wall be incorporated in the G Street Plaza redesign. Through our process, we realized that Davis community members are craving a connection to this city. They want to feel like they belong here, especially college aged kids like John who are at a vulnerable time in their lives. This design encourages citizens to collaborate with each other and the environment itself. It also provides more public art, but uniquely is created by the public themselves. All in all, we think this project is really about making people feel like they are a part of something bigger than themselves. 
The sketches provide different ways we think the city can go about using the space to incorporate the graffiti wall to G Street Plaza. Different formats provide different pros and cons for the area, whether it be more sunlight, more room for more planters, more distance between the walls and the proposed public bathrooms, along with many other factors to consider.